Oxford Psalmody at St Mary's Souldern, 3rd September
posted

31 Jul 2016, 08:29

by David Carlisle   [ updated

11 Aug 2016, 17:22

]
Oxford Psalmody
Visit to Souldern Church
10 am Saturday 3rd September 2016
Since the year 2000 a group of singers and instrumentalists have met together annually on the first Saturday in September to sing what has become known as West Gallery music, sometimes also Georgian Psalmody. Supported by Immanuel's Ground, Warwick's West Gallery Quire, our itinerary on 3rd September will be
Souldern
(10.00 am), Aynho (11.30 am), Bloxham (1.45 pm), Wigginton (3.00 pm), and South Newington (5.00 pm).
We sing because we love the music, not by Tallis, Byrd, and other such 'art music' composers, but by lesser known church composers, many of whom were artisans, farm workers, and members of quires who sang faithfully every week in their local churches and chapels, and of bands who played for social village occasions.
Do come and listen to music which was swept away by Victorian reformers and Hymns Ancient & Modern in 1861, and enjoy the music of rural parish churches in the days before organs and surpliced choirboys took over – this is a very informal 'get together' of friends and enthusiasts, but we welcome the opportunity of encouraging a wider audience to enjoy the music we love.
Edwin and Sheila Macadam,
Oxford
www.immanuelsground.com
and
http://www.shelwin.com/Oxford_Psalmody/oxpsalmquire.htm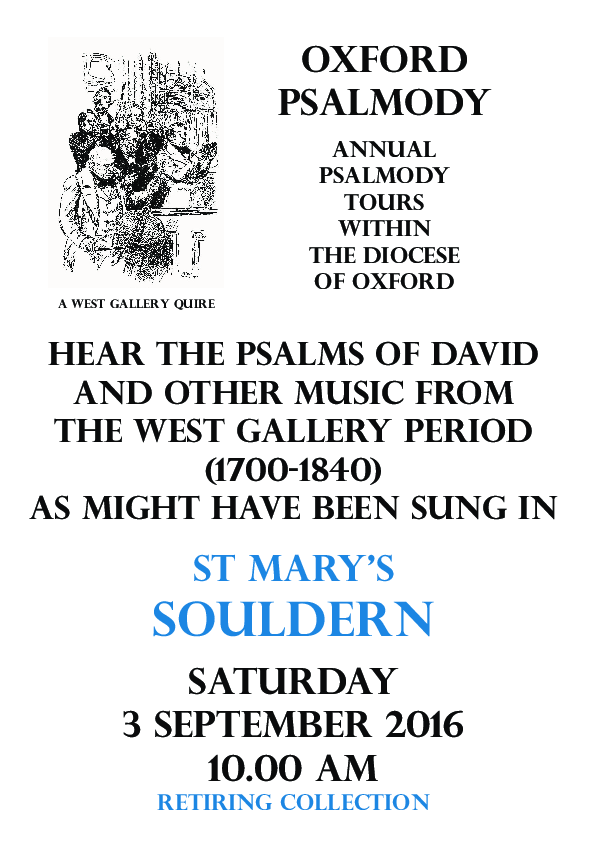 ---
The above announcement was contributed via the 
site contact page